Change of status: the specialty in nephrology and urology reaches the college level
Recognizing that the field of veterinary nephrology and urology has grown in complexity and vision, the AVMA American Board of Veterinary Specialties has tentatively approved a petition to elevate the specialty to college status. North Carolina State Professor Shelly Vaden is president-elect of the new American College of Veterinary Nephrology and Urology.
https://go.ncsu.edu/newcollege
'It's a big deal' – CVM wins USAID grant for poultry farming project in Ethiopia
To bolster its work in global health, the NC State College of Veterinary Medicine received its first USAID grant for a research project that could lead to healthier chickens and better-nourished children in Ethiopia and a model for addressing food insecurity elsewhere.
The interdisciplinary project is led by Andrew Stringer, Assistant Professor of Veterinary Global and Public Health. "It's a big deal," says Sid Thakur, director of the college's global health program.
https://go.ncsu.edu/usaidgrant
Veterinarian on your marks!
Visit the Marbles Kids Museum's new Ready Set Vet exhibit created in partnership with the NC State College of Veterinary Medicine. "We are grateful to the talented team at Marbles who brought this exhibit to life and to our team at NC State College of Veterinary Medicine who helped make this gaming experience as realistic as possible," said Kate Meurs, Dean of NC State College of Veterinary. Medicine.
Meet the College of Veterinary Medicine Class of 2026
When classes began on August 8, students from South Carolina, Texas, Virginia, Puerto Rico, Rhode Island, Ohio, New Jersey, New Hampshire, Arizona, California, Florida and Guam joined North Carolina residents, including 25 from Wake County, as college freshmen. The class of 2026 is a multiethnic class that includes 16 African American students, 13 Hispanic students, nine multiracial students, five Asians and one Native American.
https://go.ncsu.edu/classof2026
NC State brings its expertise to the Galapagos consortium
Strengthening its current research and services in the Galápagos Islands, NC State joins the Galapagos International Science Consortium, a group of institutions dedicated to the study and preservation of the famous archipelago through collaborative and interdisciplinary research. The University of North Carolina at Chapel Hill and San Francisco University in Quito lead the consortium, which provides access to the Galapagos Science Center. The center is the only university science center in the archipelago and has 20,000 square feet of laboratories, offices and multi-purpose spaces.
Our seal of approval
Or should we say laziness? When she was born this spring, Aurora the sloth needed a full checkup to make sure she was healthy and on the best diet for her age. Our experts at NC State College of Veterinary Medicine welcomed her with open arms and stethoscopes. Now the baby is doing great and has started meeting the public at her home at SeaQuest in Lynchburg, Virginia.
Another physical flippin'
Many hands care for Ronan, a 165-pound harbor seal from the North Carolina Zoo who came to #NCStateVetMed for testing. Partnering with the NC Aquariums and Zoo to help their animals is one of our greatest honors.
Professors and staff
Create an inhalable COVID vaccine
A research team including Ke Chang of NC State University has successfully tested in a rodent model an inhalable COVID-19 vaccine that is stable at room temperature and specifically targets the lungs and would allow people to administer it themselves with an inhaler.
https://go.ncsu.edu/covidinhaler
Sharing is caring
Our very own Allen Cannedy, Director of Diversity and Traveling Veterinarian for the NC State College of Veterinary Medicine, recently visited Rocky Mount to talk about his work with graduate Veterinary Medical Technology students from Nash County Community College.
A major expansion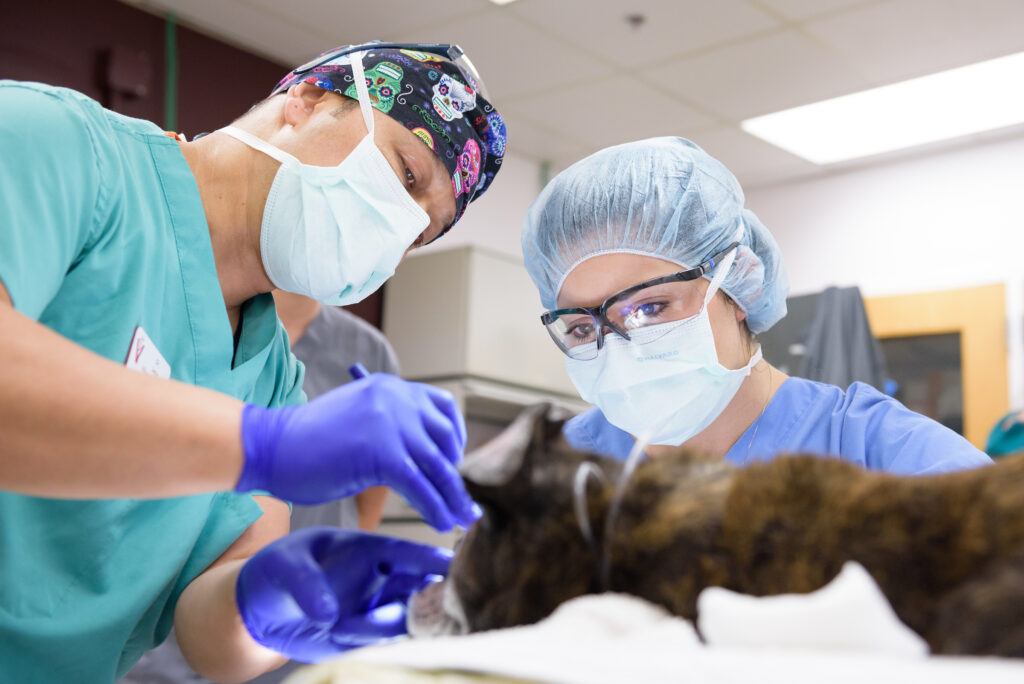 We are expanding our dental and oral surgery program by adding a second professor and a first resident in the field. Assistant Professor Lenin Villamizar-Martinez was instrumental in leading the expansion.
https://go.ncsu.edu/dentistryprogram
Donors and support
New scholarship
The NC State College of Veterinary Medicine's care for their horses and help with their business has been so amazing that Bob and Jane DeMeulmester of Vass have created an award for veterinary students getting into large animal medicine.
https://go.ncsu.edu/banixxaward
Coat of Excellence: Gratitude for taking biology for Blu
Being a medical abnormality went down well for Blu, an English Labrador retriever who was being treated at NC State Vet Med for leukemia. Owners Beth and Steve Fowler were so pleased with the result that they presented a member of Blu's medical team, Gabrielle Paul-McKenzie, with a Coat of Excellence award.
Trip of a lifetime
Kayla Bonadie, a third-year student at NC State College of Veterinary Medicine, was able to participate in a research trip and work among amazing wildlife in South Africa thanks to a seed grant awarded to help expand student participation from minorities looking on the ground globally. Here is his story.
spread the love
Gary and Jackie Davis were so happy that the NC State College of Veterinary Medicine was able to restore Lucy to her old fun and fun personality that they donated $10,000 to help other pet owners pay for care as well. top notch from NC State. Lucy suffered a leg injury that required specialist surgery.